Pairing Fukushima's Sake with Music
Sake from Fukushima is a perfect companion for food, but pairings don't have to be limited to edible options. By mixing and matching different elements, you will find unexpected ways in which sake can bring extra joy into your life.
Take Yohei Shirai, for instance. A former DJ and current head of a sake specialty store called Uekiya Shoten, Yohei is the 18 generation to run this family-operated store, which boasts a robust lineup of sake locally brewed in the Aizu region of Fukushima Prefecture. Let's take a look at his pairing recommendations for music and some of the best sake he keeps in stock!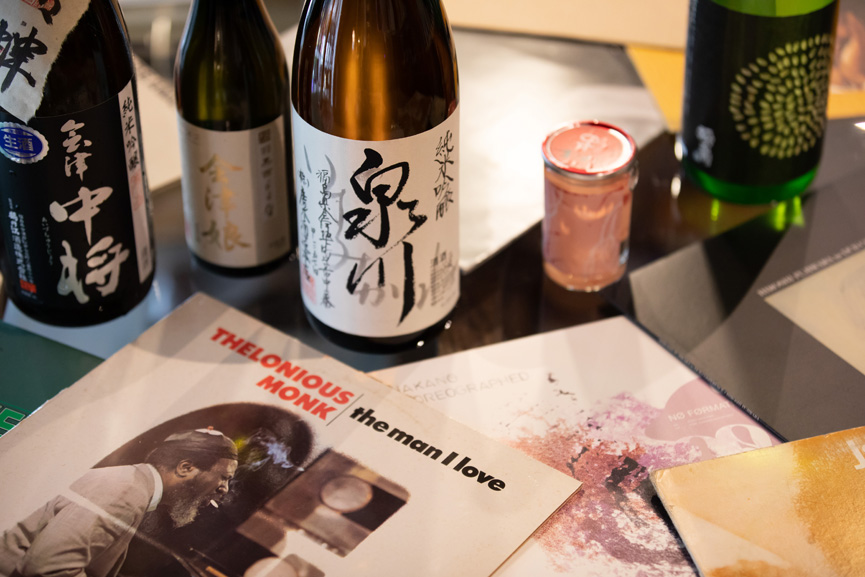 Music Makes Sake Taste Even Better
"I've been collecting records since high school," Yohei recounts. Uekiya Shoten is filled with his enormous LP collection. Much like musicians do with their music, Fukushima brewers strive to preserve tradition while pioneering new frontiers. "I always get very excited when I first drop the needle on a new release from one of my favorite artists. The same feeling hits me whenever I taste each year's new brews for the first time." We asked Yohei to select several albums featuring keyboard instruments (such as pianos) he believes pair well with certain bottles of local sake.
PAIRING 1
Izumikawa Junmai Ginjo x HIROSHI FUJIWARA in DUB CONFERENCE by Hiroshi Fujiwara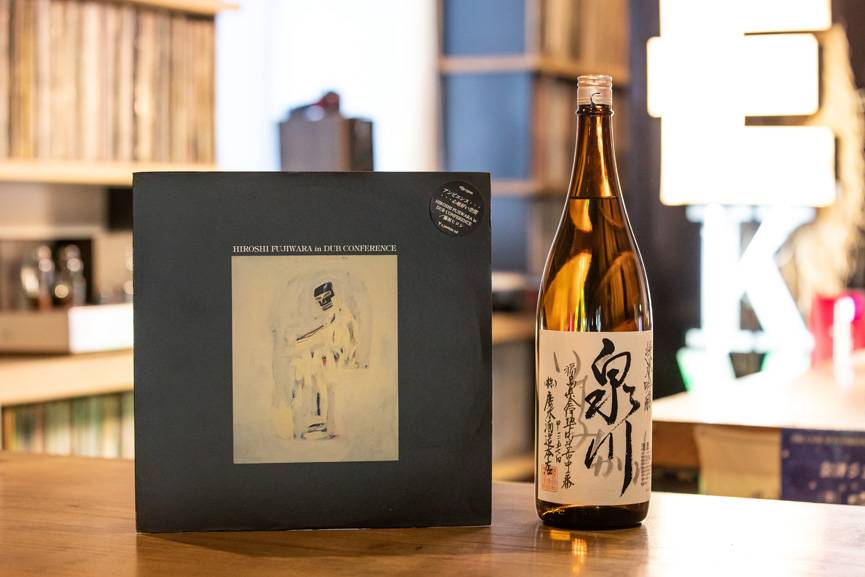 Izumikawa Junmai Ginjo is brewed by the Hiroki Brewery, and is a staple local label of the brewery, nationally known for its flagship label "Hiroki".

HIROSHI FUJIWARA in DUB CONFERENCE (VIJP23001) by Hiroshi Fujiwara is the artist's second solo album, a collection of instrumental tracks featuring the delicate sounds of piano accompanied by glass harp.
"I've been a huge fan of Hiroshi Fujiwara since my high school days, and he's actually the reason I decided to become a DJ. "Izumikawa Junmai Ginjo" is the first label I intentionally marketed as jizake, or local sake. Although the Hiroki Brewery also makes the "Hiroki" label, which is available nationwide, I see Izumikawa as the standard, or basis for reference. The layering of tones and tasteful execution in this album very much overlaps with the quality evident in Hiroki's sake. Both are unquestionably masterpieces—unerring, sophisticated, refined.
PAIRING 2
Suppin YAUEMON x The Man I Love by Thelonious Monk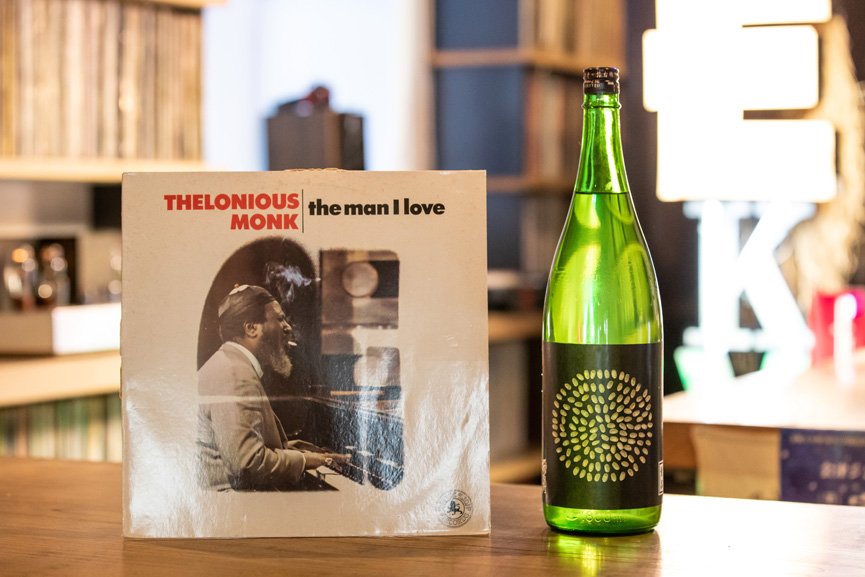 Suppin YAUEMON from the Yamatogawa Brewery is an organically produced, traditional kimoto style sake.

The man I love (BLP 30141) by Thelonious Monk was released in 1973. This album captured the second recording session from Chappell Studios in London, a trio session with Art Blakey and Al Mckibbon.
This organic sake is brewed using Yamada Nishiki rice grown by the brewery. The rice is left largely unpolished in order to preserve its inherent flavor profile. It is then prepared in the kimoto style without the addition of cultivated yeast. The result is a junmai-shu (sake free from alcohol additions) that has an overall mild acidity while still highlighting the umami, bitterness, and astringency of the rice. Meanwhile, the album captures a remarkable performance from Monk's twilight years, breathtaking in the execution amidst an august atmosphere. Suppin served room temperature alongside the melodies from The Man I Love makes for a pairing to savor, a journey certain to heighten one's senses.
PAIRING 3
Yamanoi 40 Cup x Relaxin' at Home, 61–64 by Bud Powell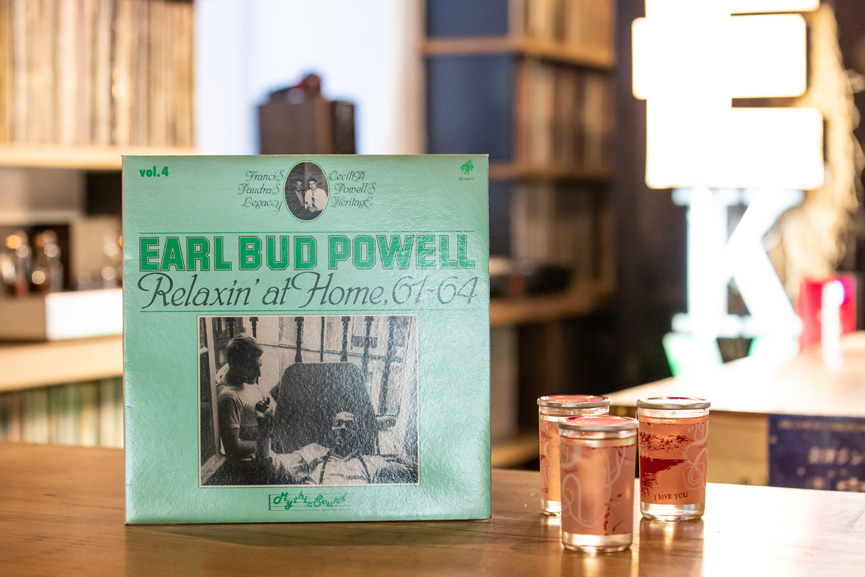 Yamanoi 40 Cup, brewed by the Aizu Brewery is a popular favorite from their widely enjoyed Yamanoi lineup.

Relaxin' at Home, 61–64 (MS60042) by Bud Powell is a famous solo pressing from the pianist known for his trailblazing trio work, with work from some of his final years.
Whereas "one cup" sake is usually recognized more for its wallet-friendliness than quality, Yamanoi 40 is completely different, as it was presented at the Annual Japan Sake Awards. We wanted to provide customers with an accessible format to enjoy the finest daiginjo, even in very informal settings, and asked the brewery to develop Yamanoi 40 Cup as an original product for our store. Relaxin' at Home, 61–64 was recorded at Powell's own home as he played the piano surrounded by friends in such a casual atmosphere that you can even hear him humming occasionally. This album and the single-serving cup are a perfect combination when spending good times with close friends.
PAIRING 4
Aizu Musume "Haguro Nishi 64" x Macka Fat by Jackie Mittoo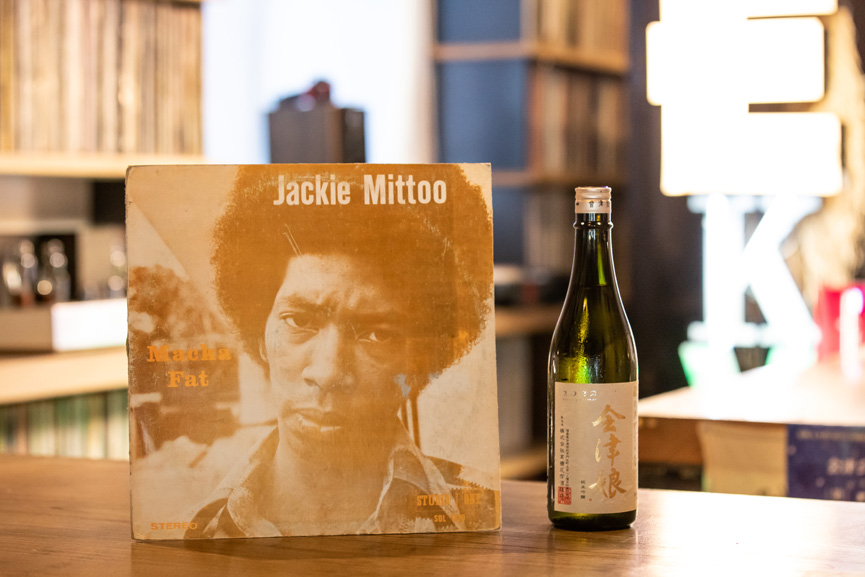 Aizu Musume "Haguro Nishi 64" from the Takahashi Shosaku Brewery is one of the junmai ginjo in the brewer's Jo series, which is characterized by the unique approach of using rice harvested from a single rice paddy for each brew.

Macka Fat (SOCD1120) by Jackie Mittoo is an LP that showcases organ riffs from the reggae pioneer and renowned keyboardist.
The Takahashi Shosaku Brewery has embraced a philosophy of regional authenticity ("local products, local ways"), by emphasizing distinctly local elements—rice, water, and people—of the Aizu region. To fully capture this local essence, they use the Gohyakumangoku rice grown and harvested by their own staff. The head of the brewery is known for his unwavering straightforward nature (often considered a characteristic of Aizu locals), a sincerity and transparency that is reflected in the sake he produces. This reflection of local character finds a parallel in Jackie Mittoo's "Macka Fat", where the Jamaica native manages to capture the essence of a simpler and down-to-earth life, with an inherent warmth to the sound that reflects this link between the land and its people.
PAIRING 5
Aizu Chujo Junmai Ginjo "Yume no Kaori" Nama Genshu x PRE-CHOREOGRAPHED by KOKI NAKANO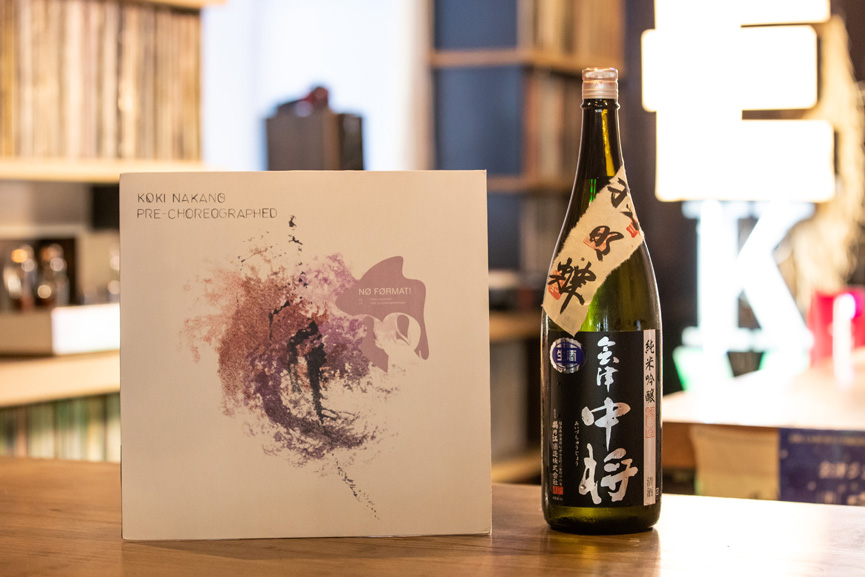 Aizu Chujo Junmai Ginjo "Yume no Kaori" Nama Genshu by the Tsurunoe Brewery is a fragrant pour with delicate sweetness and body, highlighting the characteristics of the Yume no Kaori sake rice variety.

PRE-CHOREOGRAPHED (NOF46LP) by KOKI NAKANO is the artist's second album, a wistful ode to an era when music and dance were more intimately connected.
Aizu Chujo Junmai Ginjo "Yume no Kaori" Nama Genshu is brewed using Yume no Kaori rice and Utsukushima Yume Kobo yeast, both developed in Fukushima Prefecture. This sake was bottled fresh especially for Uekiya Shoten, without undergoing the heat-pasteurization process. The result is a full-bodied, faintly sweet-and-sour, and unquestionably progressive flavor profile that captures the pioneering spirit of Fukushima sake. KOKI NAKANO's "PRE-CHOREOGRAPHED" similarly breaks new ground, with piano performances reshaped through digital editing to produce an electronic-leaning soundscape unique in tone and presentation. An album in which a traditional instrument is used for modern and experimental performances, paired with a bottle from a long-established brewery that perfectly captures the progressive edge of Fukushima sake—the perfect match!
PROFILE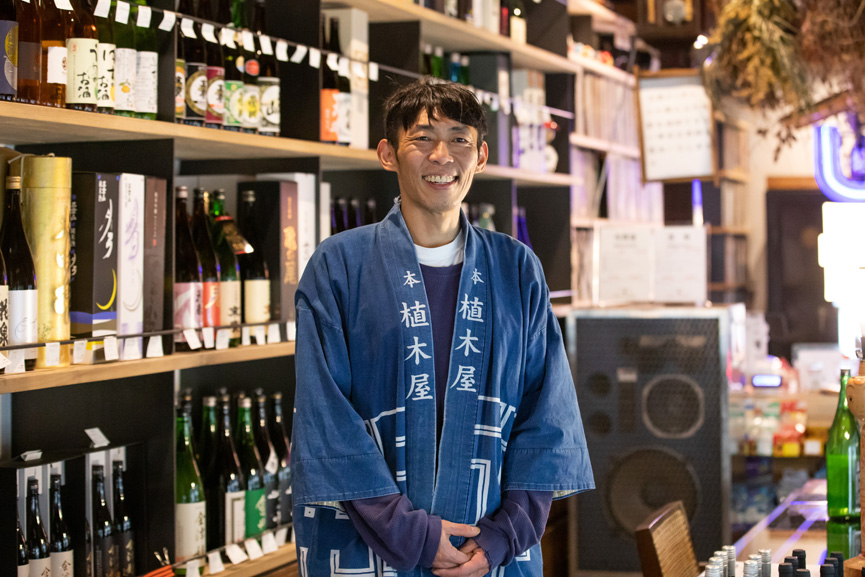 Yohei Shirai: After moving to Tokyo to attend university, he performed as a DJ at clubs including Shibuya's CAVE. Yohei returned to Aizu at the age of 23 when the previous head of Uekiya Shoten fell ill, and took over the store at 24.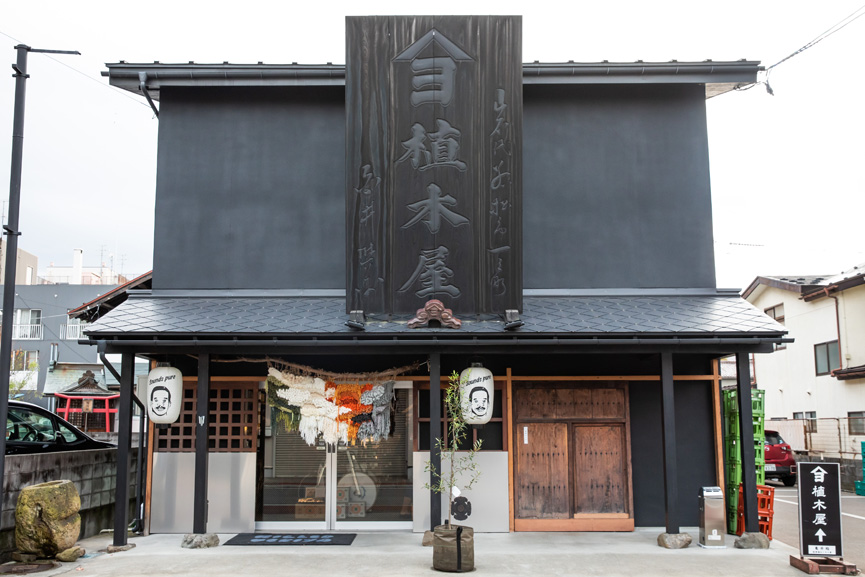 Uekiya Shoten
Founded: Edo Period (date unknown)
Address: Babacho 1-35, Aizu-Wakamatsu, Fukushima
http://www.uekiya.net/