A Sake-Filled Day
in Aizu Wakamatsu
The former castle town of Aizu Wakamatsu is about 3 hours from Tokyo Station. Starting with Tsuruga Castle, the city still retains many reminders of its proud samurai heritage, which includes a number of sake breweries located right in the center of town!
Getting there is simple (especially for those with JR Rail Passes). Just take a bullet train from Tokyo to Koriyama Station, then transfer to the JR Banetsu-saisen Line that will conveniently drop you off at Aizu-Wakamatsu Station.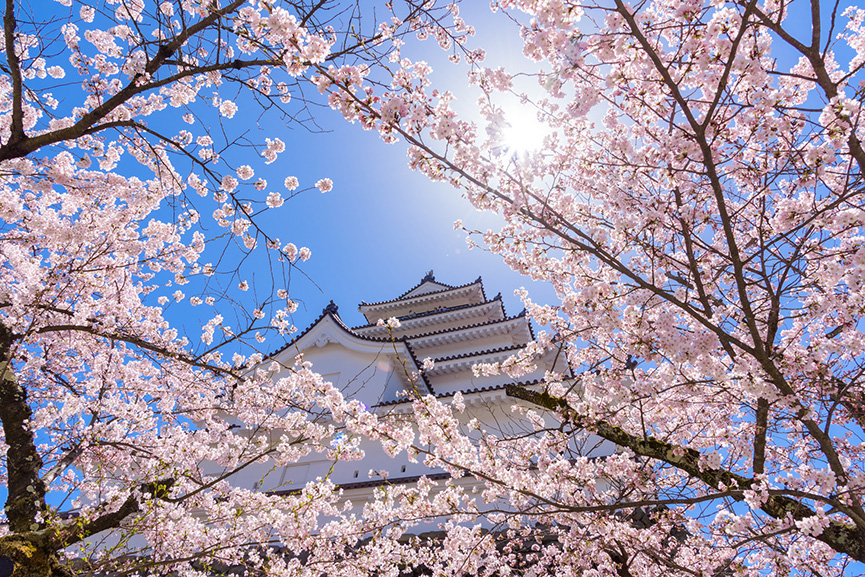 After stepping off the train at Aizu-Wakamatsu Station, get a map from the tourist information office and then hop on one of the cute Akabe or Haikara-san buses. Head to the Aizu Bukeyashiki, an Edo period (1603-1867) samurai residence turned into a museum park. With the bailiff's office, tea house, rice mill, and other historical buildings to explore, the Bukeyashiki will give you a taste for how high-ranking officials in Aizu once lived.
Another short bus ride will take you to Tsurugajo Castle, the emblem of the city. Once the stronghold of the Aizu domain, the original castle was demolished in 1874 after their defeat in the Boshin War. Now restored to its former glory, this is the only castle in Japan with red roof tiles, and looks particularly dramatic in the spring when framed by the blooming cherry trees on the castle grounds. Inside is a folk museum dedicated to the history of Aizu.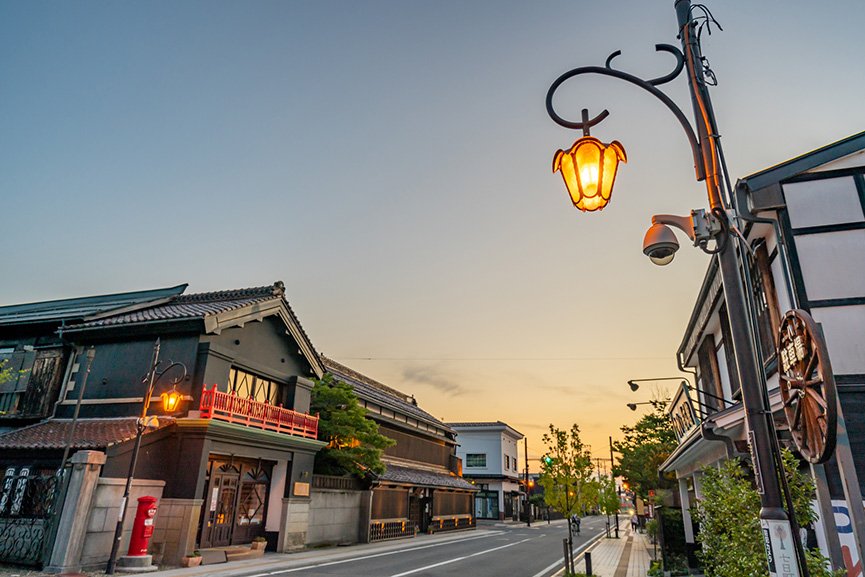 The next stop on your adventure is the must-visit Nanokamachi area, where traditional buildings, sake breweries, craft shops and little eateries all retain a delightfully retro feel.
After wandering and browsing through the old-timey streets, make your way to the Suehiro Sake Brewery, housed in seven beautiful wooden buildings. Dating back to1850, this extensive brewery has been run by the same family for eight generations. They offer regular free tours of parts of the brewery, which include a tasting of their multi-award winning sakes. For those who don't drink, the cafe on site incorporates sake into some of their desserts!
After the tour and tasting, lunch is certain to be on your mind. Nanokamachi is filled with restaurants and snack vendors where you can sample the flavors of Aizu. Try dengaku (tasty tidbits roasted over charcoal and covered with a savory miso sauce), or the local soul food: sauce katsudon, a thick breaded pork cutlet smothered in a tangy sauce, served atop a bowl of rice. For something a bit lighter try wappameshi, rice topped with ingredients such as preserved vegetables and seafood, steamed in a special wooden container.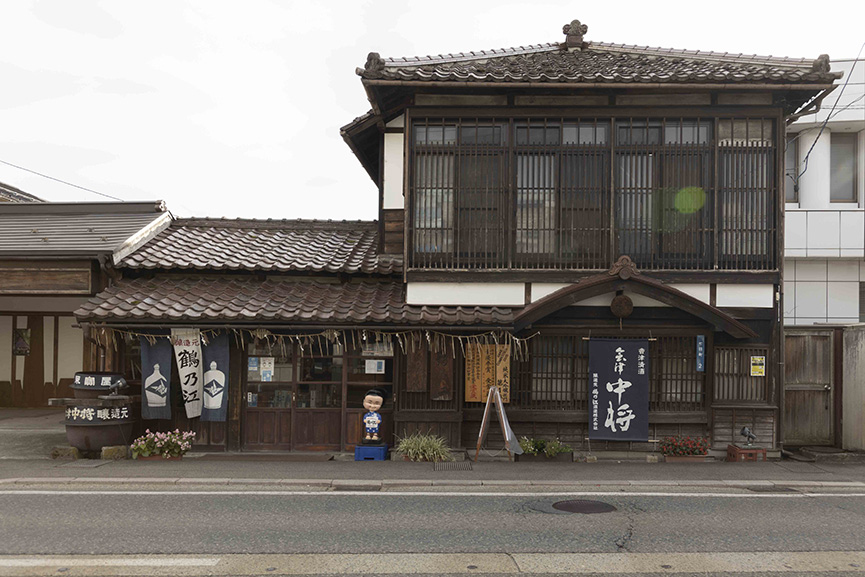 Also located in Nanokamachi is the Tsurunoe Brewery, which was founded in 1794 and once purveyed sake to the rulers of the domain. While they offer tours in Japanese with advance bookings, you can also just sample some of their brews in the cosy shop at any time. Be sure to look for the bright blue bottle of Yuri, a sake made by Yuri Hayashi, one of the female brewers featured in this article.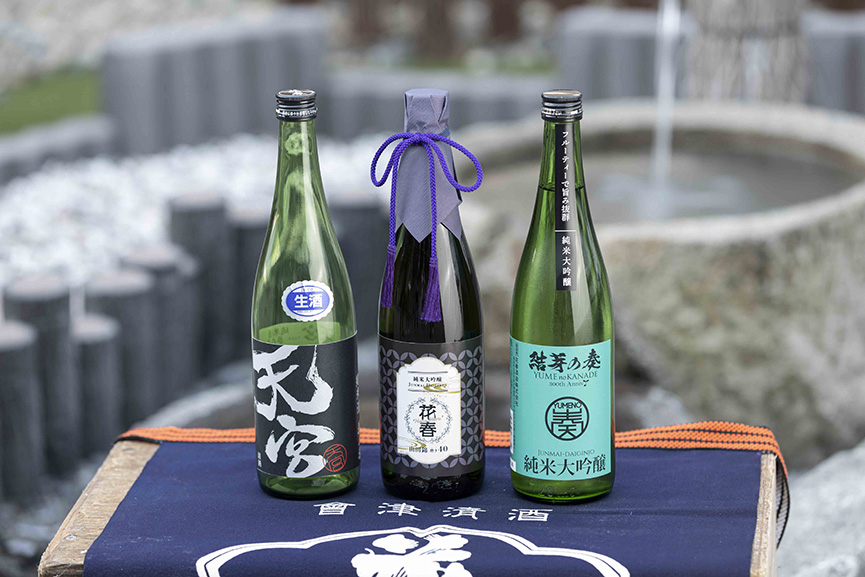 Real sake lovers can then take a bus or taxi to the Hanaharu Brewery, one of the largest sake makers in Aizu Wakamatsu. They have been brewing for over 300 years, and besides a large range of sake, also make shochu and umeshu (plum wine). The huge brewing facility, with tanks that can hold up to 40,000 liters, offers tours that need to booked at least one week in advance.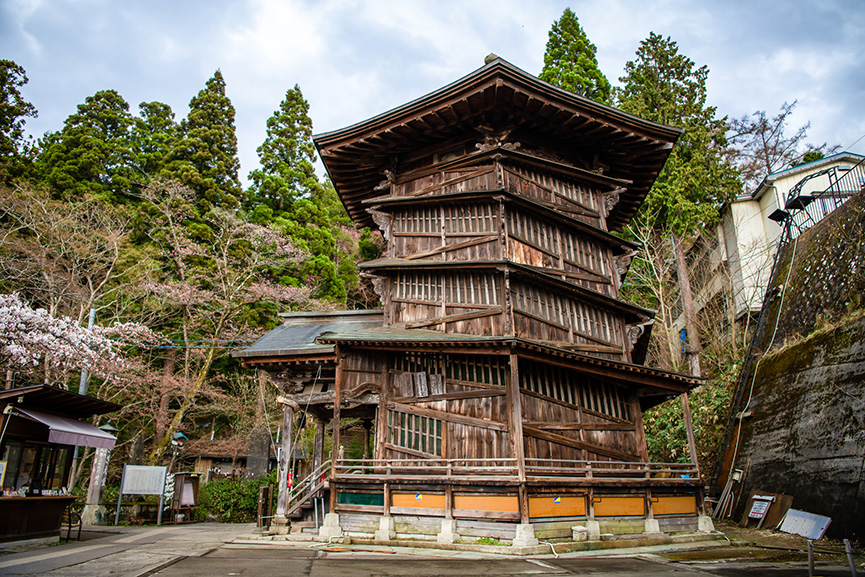 For those who want to see more of the historical side of the city instead, take a quick bus ride to the Iimoriyama area, where you can climb up the topsy-turvy Sazaedo. This hexagonal temple hall with a double helix staircase was named for its resemblance to a turban shell (sazae). Nearby you will also find the poignant graves of 19 members of the Byakkotai, a division of teenaged Aizu Domain samurai.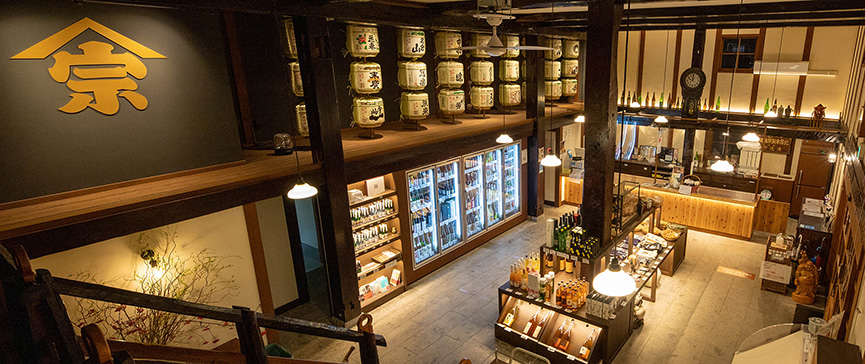 Whatever your plans, when heading back to the station make time to stop by Aizu Shurakukan, a beautiful wooden sake shop that specializes in products from the Aizu area. The friendly, sake-loving staff can help you choose a bottle or two to bring home, along with tasty local nibbles to pair them with.
Looking for a sake adventure off the beaten track? Check out this tasting trip that starts in Nihonmatsu!