Promoting Kitakata's Sake and
Community
Tapping into the passion and knowledge of Fukushima locals and devoted fans of its sake, this series sheds light on what Fukushima sake means to those who enjoy it (and some of their favorite ways to do so!). Today, we are chatting with Kitakata local Eriko Kai, who leads a dual career as a professional dancer and shopkeeper of Kai Shouten, a historic souvenir shop in Kitakata City, Fukushima Prefecture.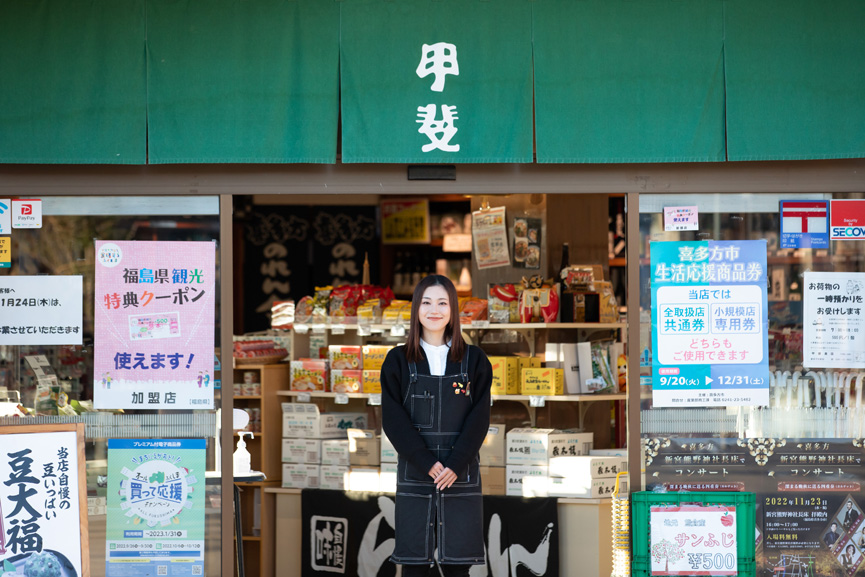 To start off, could you tell us a bit about your ties with Fukushima sake?
After moving to Tokyo from my hometown here in Kitakata, I mostly enjoyed beer and highballs, with little exposure to sake. I only really started enjoying sake after I moved back home, and that initially grew from my desire to learn more about the local offerings we stock at Kai Shouten. As I started appreciating the diverse variety of Fukushima's local sake, I soon found myself enjoying discovering which types of sake suit my personal tastes and how a particular bottle might pair well with certain food.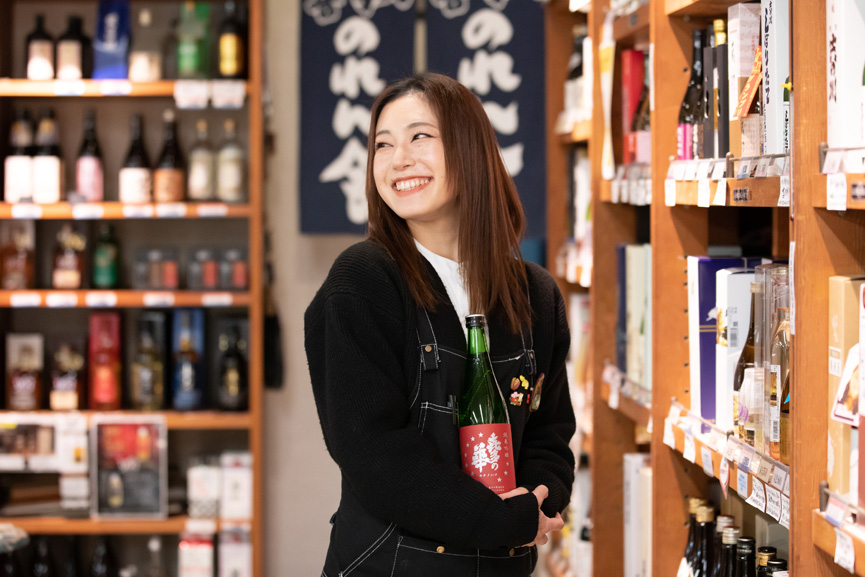 What do you enjoy most about Fukushima's sake and the culture around it?
Fukushima Prefecture can be broadly divided into three regions (Hamadori, Nakadori, and Aizu), each of which has a distinct climate and culture. I really enjoy how those differences are reflected in the sake from each region. The final products highlight the "roots" (water, rice, and regional culture) of their respective terroirs. The passion of the brewers is really evident in the sake they produce, with each kura (brewery) pushing themselves and inspiring other breweries to perfect their art. You can clearly see their remarkable group effort to ensure that Fukushima's sake continues to grow and evolve as a whole.
What are some of your favorite varieties?
I really enjoy Kita no Hana Hoshi 9: Gohyakumangoku, a junmai ginjo from the Kitanohana Brewery that is made with the local Gohyakumangoku rice variety. The word hoshi means "star," and they've added a star for each year since fourth-generation head brewer Rie assumed responsibility for brewing operations, meaning that this bottle was produced during her 9th year. The label is commonly called the "star series". When you taste this sake, it starts out slightly sweet on the palate, but with a crispness that makes it far too easy to finish pour after pour. Another personal favorite of mine is Naraman Junmai Daiginjo which is rich in both flavor and aroma. It is perfect for enjoying with friends and when entertaining.
Junmai Ginjo Kita no Hana Hoshi 9: Gohyakumangoku (left) and Naraman Junmai Daiginjo (right)
Do you prefer enjoying sake at home, or going out for drinks? Are there any local spots you recommend?
I am definitely inclined to go out! As for local places where you can get a tasty pour, Oryori Funaba Alpha is perfect for more social meetups—not only do they have a fine selection of unique and tasty sake made in Kitakata, they also serve great food. On the other hand, if you're in the mood for quieter night out, I'd recommend the Jozoshu Bar Kogiku II. I often swing by this bar for a glass or two of sake before turning in, since they have a great local selection that includes limited seasonal bottlings like Naraman Hiyaoroshi, only available in the fall.
Do you have any favorites dishes to pair with sake?
One of my personal favorites is herring pickled in sansho pepper-infused vinegar, a local Aizu dish that we also offer at Kai Shouten. Prepared in fine slices, a few small bites followed by a sip of sake makes for a wonderful combination of flavors.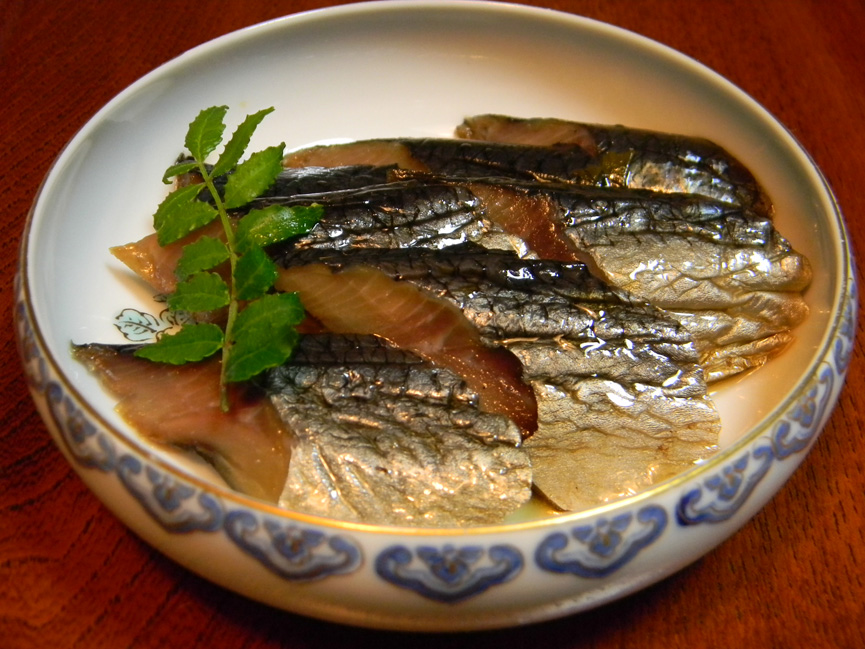 Herring, in season in spring, topped with leafy sansho (Japanese pepper) buds is a local delicacy of the Aizu region, and pairs perfectly with sake (Photo: Takasagoya Shouten).
Could you tell us a bit about what you've been working on?
Three years ago, I started the KaiEri Package Delivery program at Kai Shouten, to highlight the unique and diverse selection of local sake available here in Kitakata. Customers receive one shipment every month for four months. The program allows people across the country to enjoy a taste of Kitakata, in the form of exclusive bottles produced by 8 local breweries and a selection of snacks, none of which are available elsewhere. I would love for a broader audience to experience Fukushima's sake known for its aromatic and rich, yet approachably light characteristics.
PROFILE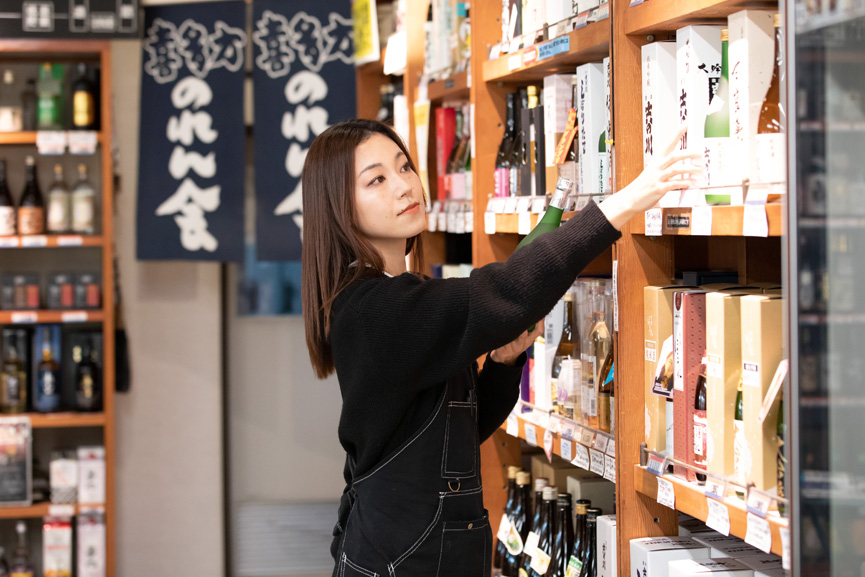 Eriko Kai: After graduating from high school, Eriko worked as a dancer, primarily in the Tokyo area. Resolved to carry on the tradition of her family business, she returned to her hometown and is currently training to take over Kai Shouten, which has been in operation since 1910. Located across the street from Kitakata Station, the store specializes in locally-sourced gifts and delicacies. While taking part in the store operations, Eriko also continues to work as a back dancer and dance instructor.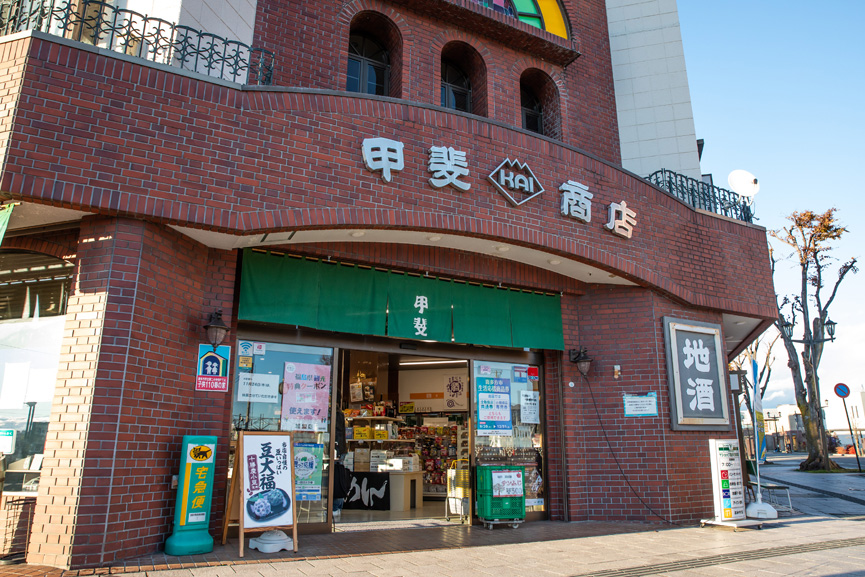 Kai Shouten
Founded: 1910
Address: 8269-1 Machida, Kitakata City, Fukushima
https://www.kai-shouten.jp/