Sake Pairing Tips
from Chef David Bouley
Sake is often thought to only be the appropriate accompaniment for a dinner of sushi or other Japanese dishes. However, this couldn't be further from the truth. Much like wine and beer, sake works with a wide range of cuisines, and its umami can elevate your dining experience.
Fukushima-brewed sake tends to have a fragrant nose with umami and delicate sweetness on the tongue as well as a clean finish. The local yeasts used in the brewing process can give each bottle either a slight banana/melon or a mellow apple/strawberry-like palate. These are the four pillars that have led to Fukushima's 8-time winning streak in the most prestigious national sake competition. The prefecture's breweries create a diverse range of brews meant to pair well with food, and that have you come back for another glass time and time again.
On this sake food pairing journey, multi-award-winning chef David Bouley will teach you how to pair his selection of 8 different Fukushima sakes (all available in the U.S.) with popular ingredients.
Chef Bouley has opened a number of Michelin-starred restaurants, including his private dining experience, Bouley at Home, where he serves his signature creative dishes that are not only inventive and delicious, but also good for health. He is also engaged in the Living Pantry, a virtual club membership that includes cooking classes, the dinner lecture series "the Chef and the Doctor", and catering for special events. In 2016, he was appointed a "Japanese Cuisine Goodwill Ambassador" by the Japanese Ministry of Agriculture, Forestry and Fisheries.
SEAFOOD AND SAKE
Since sushi is Japan's most iconic dish, it should come as no surprise that Japanese cuisine is chock-full of incredible seafood dishes that are enjoyed with sake. Fish is an easy first step if you are interested in experimenting with sake pairing.
In the following video, Chef Bouley first prepares toasted sea urchin paired with Kissui Hidari Uma from the Ariga Brewery, then a decadent wild mushroom flan with Dungeness crab accompanied by Kurashikku (Classic) from the Ohara Brewery.
Chef Bouley glazes the sea urchin in a simple glaze of soy sauce, mirin (sweet cooking rice wine) and some of Ariga's sake. Kissui Hidari Uma's clean taste with just a hint of spice matches well with the smokiness of the toasted sea urchin, bringing out flavors that usually don't come through when eaten raw. The clean finish of the sake matches the flavors of the sea urchin topped with a creamy sauce, lingering on the tongue together.
Kurasshiku is a junmai daijingo (sake made with the most highly polished rice) that is soft on the palate. Its richness marries well with the intense umami of Dungeness crab, black truffles, and mushroom puree. The flavors meld without competing, and travel together harmoniously throughout the dining experience. Kurashikku would also pair well with simpler dishes featuring some of the ingredients the chef used.
One important tip when using sake in cooking is to use a good quality brew. Just as with wine, using high-quality sake you would happily drink will add another layer of flavor to your dish, without leaving the alcohol aftertaste that "cooking sake" tends to have.
CHICKEN AND SAKE
Not everyone is a fan of seafood, so how about a juicy chicken cooked in the oven? This marriage between a classic of French cuisine and warmed Fukushima sake shows exactly how flexible this clear brew can be.
See how Chef Bouley prepares a perfect chicken en cocotte, pairing it with the Yumegokoro Brewery's Naraman Muroka Binhiire and Niida Honke's Kinpo Shizenshu, and using the latter's Odayaka in the cooking process as well!
The use of Shizenshu in cooking the chicken and Odayaka's punchy brightness in finishing the sauce adds layers of unexpected flavors and creates a gastrique (a sweet and sour deglazed sauce). The sake matches with the molasses-like perfume that comes from cooking the chicken on top of hay and adds a new tone of flavor.
Just like adding sake to the sauce while it is cooking makes it more energetic and opens up the flavors, warming up sake before drinking it changes the flavor profile. Gently heating up the two junmai sake, Naraman and Shizenshu, deepens their flavors.
CHEESE AND SAKE
While most sake is made to drink fresh, did you know that there are also aged and vintage sakes? Over time, these brews develop a deeper and mellower flavor, often resembling brandy or sweet wines. Sake can also be used to make refined umeshu plum wine, a fruity after-dinner tipple to match with a cheese board.
Both cheese and sake are fermented products, and the traces of lactic acid from the fermenting process make the two a match made in heaven. Although there are hundreds of different cheeses to choose from, Chef Bouley gives a few pairing tips. Here, he matches Pont-l'Évêque and goat cheese with the Homare Brewery's Junkomekoji Vintage Sake, a powerful bleu cheese with Daishichi's Kimoto Umeshu, and creamy brie and Époisses with Daishichi's Minowamon.
Chef Bouley notes that the flavors of both sake and cheese change with warming, allowing the taste and perfume to bloom across your palate. The Junkomekoji Vintage Sake could easily be taken for a Tokaji, with a sweetness that pairs nicely with the strong, punchy flavors of Pont-l'Évêque and goat milk-based cheeses. The Kimoto Umeshu, a plum wine made by steeping ume fruit in kimoto sake, would work by itself as an aperitif, but since it is not overly sweet it elevates the bleu cheese and balances out the saltiness (and was perhaps one of the chef's favorite combinations). Minowamon, from the same brewery, is a complex sake that packs a serious bite while remaining soft and fruity, making it a perfect partner to runny, buttery cheeses.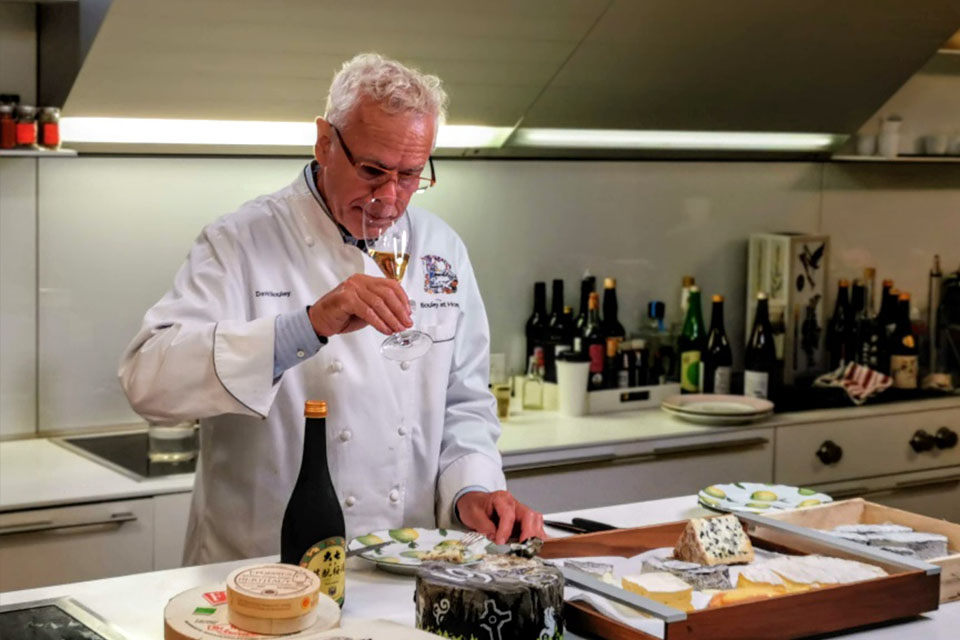 There is no reason to not try pairing sake with all sorts of foods, and Chef Bouley has shown how the flexible and youthful flavors of sake can be matched (and used for cooking) in all sorts of cuisine. The more you open your palate to new flavor combinations, the more you will understand about sake and the types you prefer.
On this page you will find detailed tasting notes about each of the sake introduced by Chef Bouley, so be sure to check it out!